Improvements to the bar code scanner
In the logistics and supply industries, there is one staple which is more familiar than any other: the scanner gun.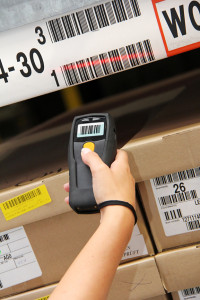 These readers are used worldwide in warehouses and along the supply chain, but now companies are seeking to improve productivity with a makeover of this essential tool. By improving the scanner gun, the companies are seeking to respond to a surge in their online orders with tools which react very quickly to instructions, and are able to do more while still retaining their essential function.
How scanners can affect logistics
The essential purpose of a scanner gun is to read and record information about stock, from receiving new stock in the warehouse to tracking a package from company to customer. At all stages of logistics, the scan is needed to record the movement of stock within the business and as part of its retail function. Traditional scanners tend to be very basic, which means they perform only a simple scan. At the most basic, they may only tell the user essential information such as the barcode number and the product name. This is fine if you don't need a sophisticated system, but with increasing online sales and demands for faster delivery, companies are facing a retail war which requires extensive commitment to technology. When it comes to the standard barcode scanner, basic sets are no longer sufficient, and something else has to be done.
Modifying the scanner gun
One of the biggest current changes in the modern scanner gun is the conversion of smart phones into barcode readers. Many logistics companies, including big names in the delivery industry, are now turning to the use of smart phones as modified scanner guns. The use of smart phones has freed up logistics firms, as the scanners become mobile computers. These are perfect for essential applications such as asset tracking, and management of inventories. Most of the mobile phone scanners use 2D area imagers which allow them to read a range of barcodes. They also allow greater flexibility since the angle of the barcode doesn't have to be horizontal in order to be read. 2D imagers can also capture more complex images, leading to intelligent scanning and greater flexibility. This reduces the time it takes to scan and interpret a barcode.

Scanner guns and logistics
The future of scanner guns appears to lie in greater adaptability to technology. By connecting the essential format of the scanner gun to smart phones or mobile computers, logistics can become more sophisticated without complicating or prolonging the process of barcode readers. The use of technology means that asset managers within logistics can view stock information straightaway without having to wait for the scanner gun to be downloaded at a stationary PC. This new scanner gun also means that changes can be made instantly, including inventory corrections and transaction records, without requiring a visit to the clerk's office. Faster responses mean that there is more time spent in the field, which increases productivity and improves the integrity of asset management data.